How to Prepare Your Boat for Winter
'Tis the season to haul your boat back onto dry land. In Midwestern states that anticipate months of snow and ice, this process typically happens in November or earlier. As you prepare to clean, drain, and winterize your boat, you'll need to follow a thorough checklist before putting old faithful back in storage.
Like cars, boats are complicated creatures. They provide a lot of fun in warm weather seasons, but it's crucial to prepare them for winter properly so they will continue to function safely on the water. Even in a milder climate, responsible boat owners need to take certain steps at least once a year so that their watercraft is ready and able to go back out in the spring.
Prepare Your Boat for Storage
Knowing where and how to store your boat is an important piece of the puzzle. Find out the best option for your type of boat so you're not left scrambling for space at the last minute. Many owners store their boats on an empty outdoor lot. Whether public or private, consider hiring a boat mechanic to winterize your boat before covering or shrink wrapping it for the winter.
If you're new to the game or could use a refresher, talk to an expert. Steps may vary depending on what kind of boat you have. For instance, a Sunfish sailboat can be stored with the hull upside down or right-side up. A boat is an investment that requires the same level of care and maintenance as an auto for you to get the most out of it.
Winterize Your Watercraft Each Fall
Winterizing your boat helps prevent different parts from cracking and breaking down in freezing temperatures, and preparing for the worst can save you money. On the other hand, neglecting routine maintenance can penalize you in more ways than one. Not only might it shorten the lifespan of your boat, but insurance companies likely won't cover a claim they view as the result of freezing due to improper maintenance.
To help your boat survive the harsh winter and keep it in tip-top condition, Boating Magazine recommends these five winterizing steps for motorboats:
Drain the engine. Be sure to take the proper steps to drain your engine of any water. If it isn't completely drained, the remaining water may freeze, expand, and crack the engine block and manifolds.
Change the oil. As with a car, this step is important because it removes moisture that can cause internal corrosion, potentially resulting in a loss of power and engine damage.
Use a fuel treatment. Add a stabilizer to the fuel. Then run the engine briefly to circulate the treatment throughout the engine. This simple process prevents deposits from clogging that can ruin the entire fuel system.
Add a fogging solution. Use the appropriate fogging solution to coat the inside of your engine. Find out which products your engine manufacture recommends for the best results.
Drain the gearcase lubricant. Fall is a great time to check your gearcase lubricant since marine mechanics aren't as busy and sometimes offer winter deals. You know the drill: lubrication keeps your gearcase seals in good shape and protects the entire gear system.
Register Your Watercraft in Illinois
If your boat has a motor, certain steps are necessary to operate it legally. Rule number one: a motorized boat of any size, construction, or type needs to be registered to be on the water. Make sure yours is registered so you can enjoy it in the spring! Getting the paperwork in order can take some time, so it's best to prepare now for your first outing next year. Here's how:
Bring in your registration title to your nearest Community Currency Exchange (CCEA) location.
A CCEA staffer will quickly process your information for you.
You leave with a brand new temporary or full registration.
Registration allows you to enjoy your boat rather than wait for a three-year boat decal to arrive. And if you're in an area where cold weather boating is allowed, be sure to follow all safety protocols. Always check the weather forecast before boating, and make sure your passengers wear a U.S. Coast Guard-approved life jacket before heading out.
If being a responsible boat owner seems complicated, your local CCEA will make it easier for you. We'll hook you up with a 120-day permit so you're ready to head out onto the open water. While you're there, get your car registered or use one of our many financial services. We do a lot – stop by and see!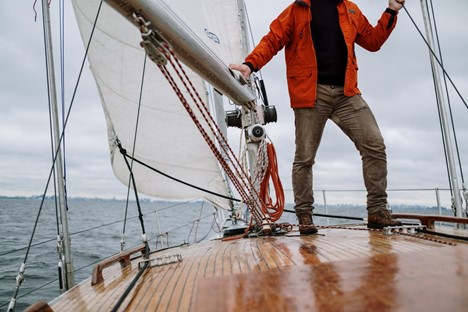 GET STUFF DONE
With over 350 locations, many open nights, weekends, and holidays (and several stores with 24/7 availability), you can rest easy knowing your financial needs can be taken care of when you need them most. We're in the heart of every community. Don't believe us? See for yourself.